The name has no relevance to dogs, it is just the first letter in our names with the word 'and' in Icelandic (og) in between: D-and-S.
Sóley Stefánsdóttir is a graphic designer, also educated in the humanities and gender studies. (Here is a link to the CV & Portfolio)
Halldór Gíslason is an architect, also educated in philosophy and semiotics.
We like to believe that the projective thinking and methods based on searching for betterment that is/should be inherent in design is a way to improve an imperfect world. We like to use our skills as designers to realize dreams of a more sustainable, creative and happy future.
Our work in Maputo, Mozambique.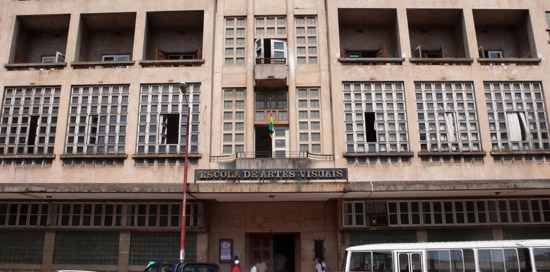 Soley will be teaching graphic design in ENAV, Ecole Nationale des Artes Visuais until summer 2010. The project she is employed in is called MONOZI, which is a collaboration between Mozambique, Norway and Zimbabwe. The project is on behalf of The Fredrikstad Community School of Culture and is in cooperation with and financed by Fredskorpset (Peacecorps) in Norway. It is an exchange program so teachers from Mozambique and Zimbabwe stay in the culture school for teaching and vice versa. The exchange is within the fields of dance, music and graphic design.
—

Dori will try and establish a platform for cooperation between KHiO-The Oslo National Academy of the Arts and ISAC – a school of higher education within art and design in Maputo that is to be established in the near future. This could become a similar collaboration as the Fredrikstad Community School of Culture has on the undergraduate level.
This site is for our reflections about the work we do in Mozambique, both as a record and for communication to those intrested. Hopefully we can map the work and make a blog that can be of intrest and some use.