Graduate students working hard… even if they should work harder according to the teacher!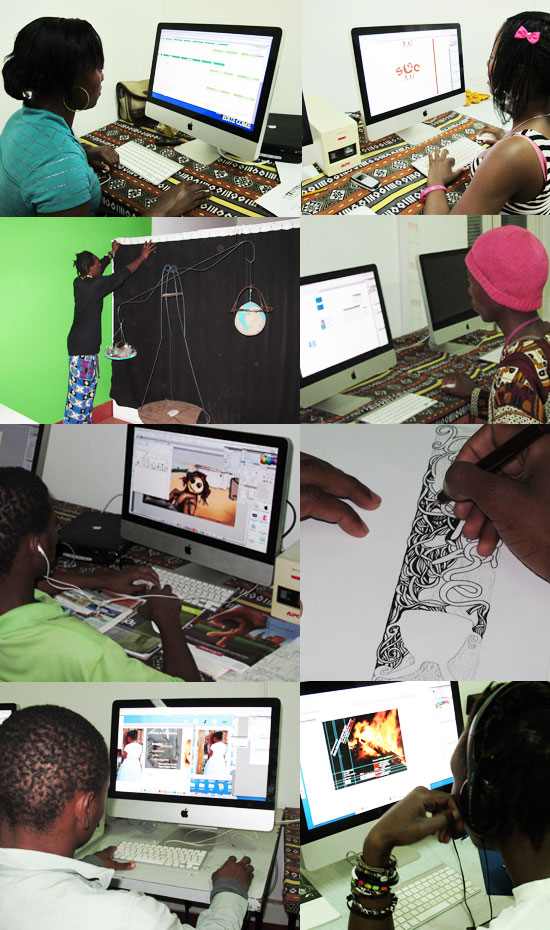 The final students in graphic design in ENAV will defend their work on 23rd of July, in less than two weeks. There are still many things to do but the work is taking a shape!
This is the group I have been working with since I came here and I was their supervisory teacher last year. Since Christmas they have been working as interns in design agencies in Maputo but coming to school on monday and friday afternoons to work on their final projects. Most of the students finished their three months of internship in May/June and some of them have already made a contract to continue to work there as graphic designers.
In the end of the semester last christmas we had meetings about the final projects, about ideas and what to do. Some of them presented ambitious ideas and they all had ideas that could be developed into a final project.
In the period they are interns they have 8 hours a week in the schools schedule to come and work on their final projects. It has been a bit challenging to get the students to come to school that period. When working in the graphic agencies they have projects there and it can be difficult to leave that and go to school, and as many of us graphic designers know, they think they have a lot of time until suddenly the end is close! But most of them though have attended school, some more some less, and used their time and access to the graphic studio in school to develop their work.
These eight hours a week are not enough to finish the projects. But next semester the finalists are not part of the plan in school and they do not have access to the media lab, as it is fully booked for classes with 4th and 5th year. There is also no teacher to attend them. Next semester my colleague Paulo, which is here on behalf of Identidades (a portuguese project) will have to teach most of the classes as I will go in August. Last years final students had their presentation as late as October and it was quite caotic because they did not have access to the media lab and had great difficulties in succeeding to finish their work.
The school has a month long winter vacation from the 19th of june and then the graphic room/media lab is free. I decided to stay there from 9-17 in the vacation period working with the final students to give them opportunity to work hard to finish their projects and then have the 'defesa'/final presentation right after the school starts so they can finish and graduate.
My work period here ended in June and there was not a will to continue my contract for one month to finish this work. I was sad about leaving without finishing the work so I talked to the leaders in school about the possibility of staying anyway. They appreciated that and agreed it was important I finished off this work. So I bought me a new ticket home in august and was so lucky to be able to stay in a very nice friends house here in Maputo.
The work is going well and the spirit is up and the students are ambitious. I really am enjoying working with them. I will post the results after the 'defesa'.