A Church visit with one student, delivering a logo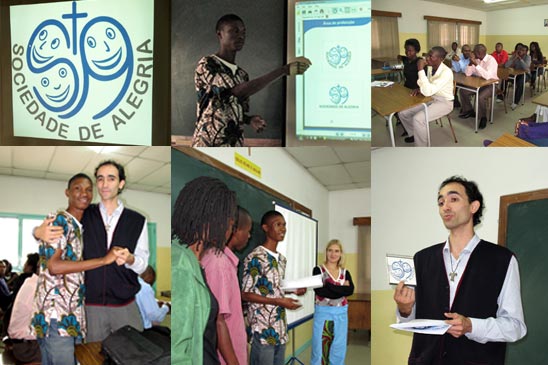 One of my students designed a logo for his church in one of the projects this semester. Now he finished the logo and asked me to come along to his church to present and give away the logo.
So last Sunday I went there and met his youth group. Very nice group of young people. Begildo presented the logo and the visual identity manual in a slide show. Then the group discussed and brought up questions. Why this color? Why are there three smiling faces? How to use the logo on a red t-shirt… Begildo had most of the answers ready. The group were happy and grateful to have  the logo. The priest came after the presentation so he got an extra short presentation and held a little speech.
I think Begildo did a nice job. He manages to use the main letters SA, Sociedade de Alegria (society of joy) in a happy and joyful way. Blue is the color of heaven and the three faces are a symbol of a society/group of people.
Then I went to Begildos home to visit his family. There I was served a nice lunch and Begildo showed me nice artwork he is doing at home.