Great news: Recycling in Maputo!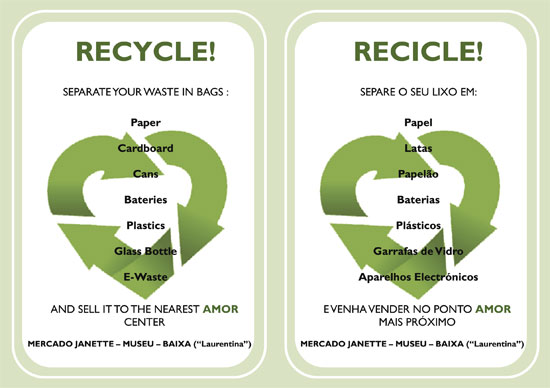 One of the difficult things of moving from Oslo to Maputo was changing the 'garbage habits'… In Oslo we separated all our garbage and took to recycling station close by. We even had a separate bin for paper in front of our building. Separating and recycling garbage also effected our consumption. Separating the garbage makes one more aware of the amount of it and when it takes an effort to throw you also think about buying less and collecting less garbage. Our criteria for selecting products were among other things, if it could be recycled and the less packaging the better. We had the policy of leaving the packaging garbage in the store, only taking the product itself home (hoping the store would push the producer to reduce packaging).
It is great that this option is now available in Maputo. AMOR; Associação MOcambicana de Reciclagem has opened three recycling stations. First task is to organize more garbage bins at home and get the trip to the recycling station into the busy everyday life! I will start today. Lets all do that!
Here below is the announcement from AMOR and a map of the location:
Caros residentes de Maputo,
A Associação Moçambicana de Reciclagem (AMOR) vem por este meio informar da abertura de tres "eco-pontos" na cidade onde podem deixar o vosso lixo seleccionado em sacos (de segunda a sexta das 8h as 16h). A AMOR recolha todos resíduos como papeis, papelão, plásticos, latas, garrafas de vidro e e-waste.
Os resíduos serão pago por kilo consoante o tipo de produto. Em breve, sera organizado uma recolha gratuita dos seus recicláveis nos perímetros dos "eco-pontos". Os "eco-pontos" sao contentores verde nas zonas de Coop, Museu e Baixa.
————————————-
Dear Maputo residents,
The Mozambican Recycling Association (AMOR) is please to inform you the opening of three "eco-points" in the city where you can deposit your selected waste in bags (monday to friday from 8am to 4pm). The AMOR collects all residues like paper, cardboard, plastic, cans, glass bottles and e-waste.
All waste will be paid per kilo regarding its category. Shortly, we will put in place a free collection within the perimeter of the "eco-points". The "eco-points" are green container in the areas of Coop, Museu and Baixa.
—————
A.MO.R. (Associação MOcambicana de Reciclagem).
Contactos:
Stephane Temperman; Presidente, +258 84 46 177 64.
Antoine Bossel; Vice-presidente, + 258 82 30 399 11
6865, Julius Nyerere, Hulene, Maputo, Moçambique.
—————
More details:
Prices for material delivered to the "eco-point":
paper categories:
white paper = 0.75 Mt per kg
other paper (newsprint, magazine, dead-archives) = 0.3 Mt per kg
Must be packed in bags.
Cans:
oil cans, drinking cans, sprays, food cans, paint cans = 0.75 Mt per kg
Must be packed in bags.
Plastics:
Plastic bottles, buckets, plastic bags, chairs, soap bottle, … = 1.2 Mt per kg
plastics must be free of fiber, and packed in bags.
Cardboard:
Any kind of cardboard = 0.3 Mt per kg
must be stacked in bales