Gilles & Cecilie visiting Maputo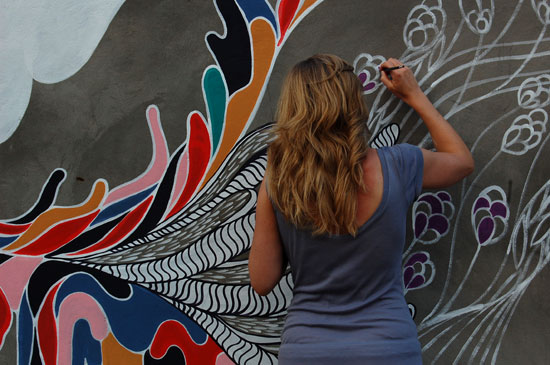 When it was clear we would go to Mozambique to teach design, many of our friends, designers and artists, wanted to contribute by coming and having workshops or participate in some way. It is of course expensive and a long journey so it easier to say than do. Gilles & Cecilie said would come and they came!
They arrived 14th of May and stayed until the 26th. It has been great, they have made a beautiful painting in Dansarte, an art venue that is being built in Matola by Maria Helena. Me and Dori were in the 'painting crew' and helped out with the fillings, which was quite a nice change from the everyday computer and city work.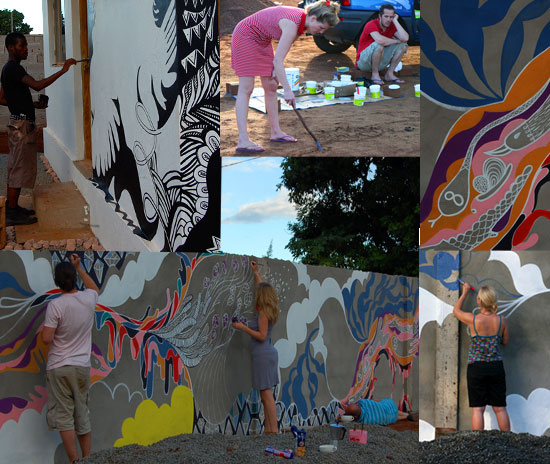 The first plan was that they would do a workshop with my students in ENAV but then we decided that their experience would fit perfectly to the Mural (wall painting) project that was on in ISAC. They have been doing wall paintings all over the world for many years and have an experience that could have been interesting for the students in ISAC. Mozambique has a tradition of wall painting and it looked promising to see the outcome of this mixture. The plan was to paint four walls, three by student groups and one by Gilles & Cecilie.
Unfortunately some thing went wrong with formalities so their participation in ISAC was cancelled. Instead they made a great wall painting in Dansarte in Matola. We had gone there to visit Rejão, my student, that is doing a wall painting on the recidence house there. From Wednesday until the last day Gilles & Cecilie went there with Dori to paint and I went along when I was not teaching.
The people there are great and the fantastic restaurant Tubiakanga is very close. There they have very nice chicken and pork, potatos and Preta! We really recommend everyone to visit Tubiakanga.
We went for the last day yesterday so they could finish off some last strokes and say goodbuy to Paulo the guard and the people working in Dansarte and of course have the last Preta in Tubiakanga.
Gilles & Cecilie, thank you for visiting Maputo!
Here is a link to Dori's blog about the project.