Interview with Runa Klock and Marta Frøystad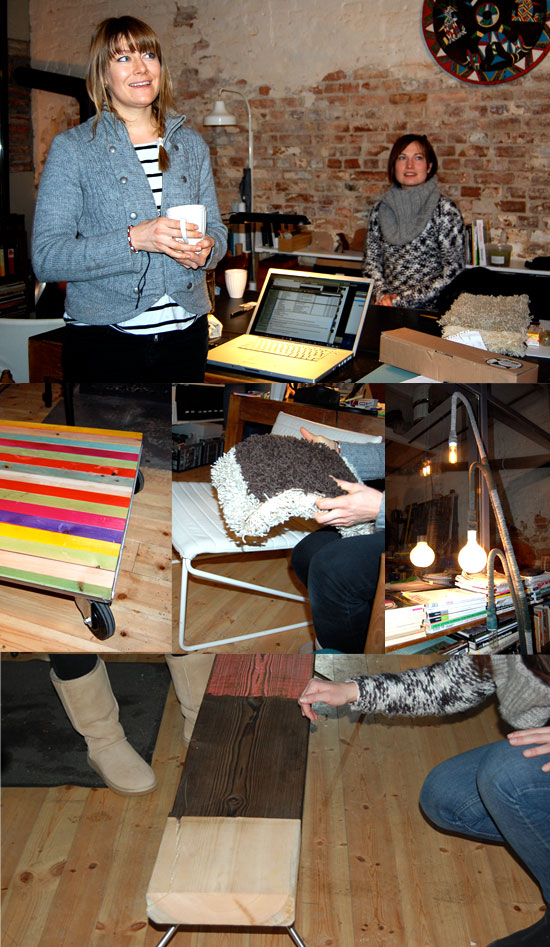 The project in the making in this trip is a video with reflections and documentations about environmental issues. One of the things to do is to talk to designers that are conscious about the importance of the environmental impact of their designs and work in a sustainable manner. It is not simple and easy and there are many aspects to consider to make an environmentally friendly product; the material itself, the distance the material has to travel to be produced and shipped, how long the product last before it is added to the overfull rubbish dumps of the world, making the design survive fashion swings for example by integrating a story in the object and/or bring forward the origin of it, easy dismantling for recycling is important and more and more and more.
We visited Runa and Marta, two young Norwegian product designers. Runa has been studying ways to create sustainable products for some years. We sat down with them and they told us their thoughts and showed us examples. David and Rejao asked them questions and filmed and photographed. A very nice interview and we have a whole lot of material to use and edit. Now we want them to come to Maputo and have a workshop, the are so many interesting possibilities for product development there. One of the approaches that are important is to use local material and local knowledge in the production. In Mozambique the crafts knowledge is still all around and designers should have possibilities to develop modern products using local production knowledge. Unlike us in the west that have shut down nearly all our production facilities because it is cheaper to send everything to China. But the cost of that is lost knowledge and limited possibilities for local production with local materials.
Thanks for a nice and informative visit Runa and Marta!