A visit to Sorpa, recyciling station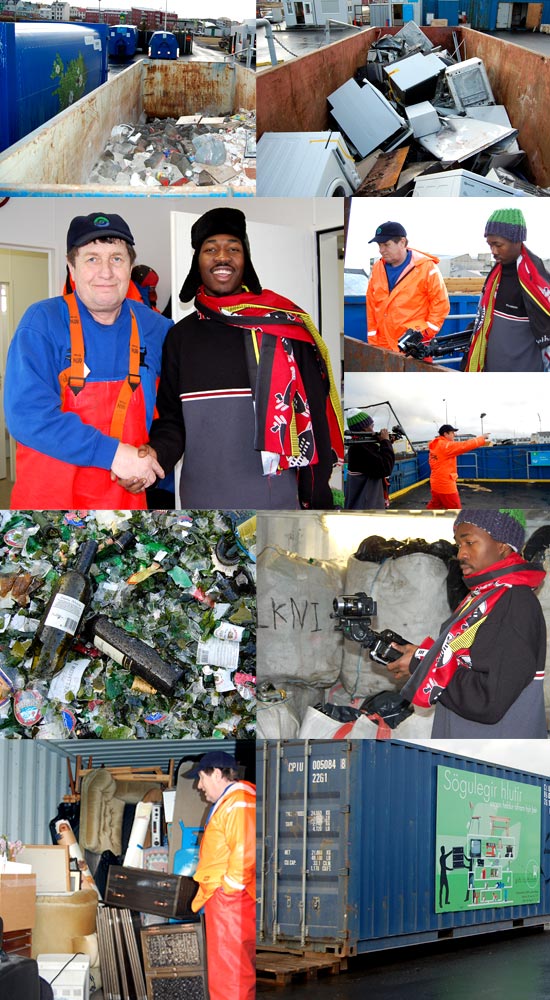 We went three times to visit one of Sorpa's recycling stations in Reykjavik. The first time it was so cold that it was difficult to be outside and we did not film. We just photographed and one of the staff members introduced the station and the procedures to us. He had a really cheerful introduction which stuck in David's mind. And later he insisted on going back to get an interview with this man. We returned later hoping to meet him but he was not there. We managed to describe him well enough to find out when he would be working again.
So next time we visited Sorpa we met Sigurður Jónsson. He accepted to be interviewed and filmed while showing us around "no problem". He answered our questions well, told us his thoughts about the environment and recycling and walked us around the area. Afterwards Sigurdur gave David a russian style leather and fur hat to keep him warm. A useful thing in the Icelandic cold but here in Mozambique it can serve as a decoration for good memories!
It is interesting from the perspective of Maputo to look at how things are in Reykjavik. Iceland is around 20 years behind the other Nordic countries in infrastructural systems to protect the environment. Sorpa is just 20 years old and before that there was just a big garbage dump where everything was trown into one pile. People threw garbage on the streets like such an act was no problem. With a political policy and campaigns to change the mentality of the people things have improved fast, even though like Sigurður told us there still are way to many that do not care about their environmental impact. If such a policy would be taken in Maputo, system developed and awareness raised I am sure things could change very fast. I hope so!