Kristine and Soley 65 years old together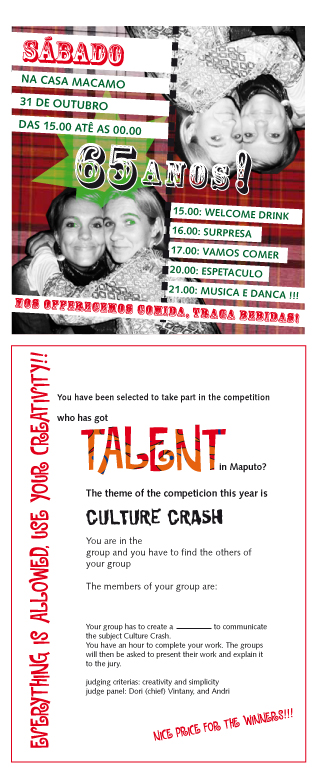 I had birthday the 21st of october and Kristine the 28th, so we decided to celebrate the 65 years together (36+29). This idea of joining the years is not known here and our friends here did not get the idea.. who was getting 65, which of us was 65? how was that possible?
We had all kinds of ideas; camping on the beach in Catembe and party all night around a fire, reclaim an old and dirty house in Jardim Tunduro by getting our friends to help cleaning, fixing and painting it and then have a party, renting some place like the scandinavian school, Casa Velha or Casa Makamo. Ideas can be good but to complex to execute so the easiest way was to rent a place in Maputo where the food would be made and served.
The cheapest and the nicest place like that was Casa Makamo. We had a deal of a party for 50 people, dinner served but people should bring drinks. It was hard, we had a guest list with around 80 people so we had to cut and cut of the list.
The birthday was from 15.00 – 00.00. The wether was beautiful and great to be able to begin the party in daylight and sun. The mozambicans are not really punctual so we discussed back and forth how to get them to show up so early… even if a party starts early it is common that people show up around eight or nine in the evening. We put up a program with a welcome drink at 15.00… alcohol is always tempting… and then there was a surprise at 16.00 and food at 17.00, then at least people would show up at five to eat.
We were late and in a stress finishing the letter that each guest should get when arriving, a description of a game that they would participate in. The problem with norwegians and swedes is the opposite of the mozambicans; they come exactly on time! So there is no buffer to finish of the last things!!

Of course the program was delayed, the game was postponed until after the dinner which was just delayed for half an hour, people were hungry! The food was great and we can praise Casa Macamo for that and recommend their service.
After dinner the game started. People were told to open their letters. There they could read about the game; Who has got talent in Maputo?! and in wich group they were. People were divided into groups of painting, music, dance, drama, installation and free method and should create an artwork about Culture Crash and present later on. They had to find the others in their group and had half an hour to finish. Everyone went into groups and started working on ideas, it was great to watch how enthusiastic the groups were and people seemed to enjoy it.
Afterwards the desert was served and the jury took it's seat. The jury was a serious bunch; Dori, Andri, Vintany, Hallgrímur and his friend and the head waitress of the evening. I realized when the jury sat down that there were only male and that should never be allowed. Everyone had taken part in the game and me and Kristine wanted to be impartial so we forced one lady of the catering gang to join the jury!
The winners of the night were the drama group. They set up a play which compared a mozambican shapa (minibus) and a european bus. A great performance.
Then there was dancing of course. Mozambican people know how to party! It is really not possible to have a boring party here. They are the best dancers I have met, everyone here knows how to dance and  the energy is amazing. I really love this culture and the people here.
We were very happy with the party! Thank you all our great friends for coming and making it such a nice day.