9/9/9 First Day of School in ISAC

A conversation in plenum about art, design and production. ISAC director joined us for inspiration about 'touching the soul'
Today on the 9th of 9th of 9 we started the first day of the university education in art and design here in Maputo. During the process of development we in the startup-group decided to begin with a strategic conference about what actually a school of his kind is and how the three first disciplines differ from each other.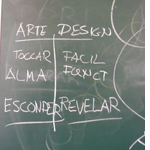 The day was very inspiring, the students are very verbal and reflective. We did actually start by conversing a bit about the difference between a university level education and foundation. The fundamental part here is going to be the reflective element. How to develop a critical reflective mode, hopping between searching/mappin over analyzing and ending in evaluating. Only to start again every time creating a hopeful spiral of development. Here is a simple description of what we do:
Plenum, a presentation of a set theory diagram map of design/art/cultural production. Discussion about differences and similarities. Creative industries, art, design, presentation, touching the soul, market, artist as an individual and the faceless producer of art, creativity etc.
Then we went our separate ways into three rooms for the 3 different groups for some group home work defining themselves, their tasks and differences.
Return to the plenum where every group made a report on big flip-over about how they saw themselves different from the other two groups and how they are similar.
After this was time to go home with the task to reflect, discuss with friends and return with the statement:
" I am a designer/artist/cultural producer because . . . . . . . "
This presented we have a plenum conversation about our motivations and differences between the groups.
After some dialogue the groups are to go to their separate rooms to create a a manifesto for their field for the coming work in ISAC.
Plenum return of all three groups with the manifesto and the students are to sign their name under it. (all things can change in the future)
After that we will have a group of design students, a group of art students and a group of students of cultural production.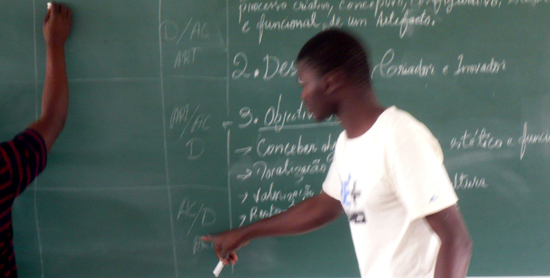 Fighting it out on the blackboard what design really, really means!
We in Maputo are really optimistic for the future. Resources are scarce, things are complicated, life is difficult for the students and teachers, but . . .  there is an optimism in Maputo that I have only experienced in Reykjavik in my life. There is a drive for doing, for acting, for participating in a future that is only possible. I am not one to say that my experiences from Reykjavik have always been great and we know now history, but I can only say one thing: It was not my students in the Iceland Academy of the Arts that created the mess that Iceland is in now. They are still optimistic and work from the grassroots for a better future if only the bankers, profit whores and conservative politicians will not destroy our great Iceland before we can save it. I hope the same for Mozambique.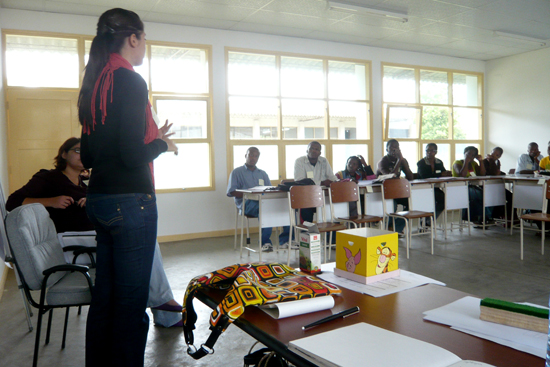 Karina and Maimuna conversing about the pros and cons of art and design