Off the Beaten Track in Mozambique

We spent a few days last week in the Mozambiquan part of the Transfrontier National Park that is to span over a very large area linkin together the Limpopo National Park in Mozambique, Kruger National Park in South Africa, Gonarezhou National Park, Manjinji Pan Sanctuary and Malipati Safari Area in Zimbabwe, as well as two areas between Kruger and Gonarezhou, namely the Sengwe communal land in Zimbabwe and the Makuleke region in South Africa. The total surface area of the transfrontier park will be approximately 35,000 km2.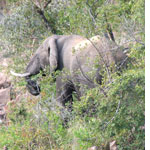 We entered Mozambique through the Kruger park in South Africa where we had spent some time to visit mountains (something we badly miss from our home). Visiting Kruger is always great fun since animal sightings are many and varied. The services and infrastructure is great, one can buy food, petrol and visit many restaurants albeit those we have visited have the classic fast food feel about them. I have heard similar comments from people that visited Kruger before that it has become so commercial. But what can one do with progress? Many people want to visit and they should be allowed to do so and enjoy the nature and learn. The question becomes: How is it possible to help with access to nature while not destroying it with capitalistic voyeurism? This has been my preoccupation about our sensitive nature in Iceland.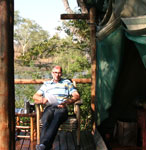 Anyway, coming over to the Limpopo Mozambiquan side was a revelation. There the park is almost untouched, the roads are part of the landscape as tracks, the animals have a completely natural habitat (not concrete watering holes like in Kruger) and the camp that we visited was completely a Bush Camp, just tents in the forest. When we arrived we were taken aback since the camp just appeared on a river bank with loads of baboons running around on the other side (reminding of Apocalipse Now arrival at Kurt's location) and tents hidden in the trees. We were welcomed by Johan Kriek (an old hat in safari travels all over the Southern Sahara Africa) and his staff. The reception was warm and clear and on top of that an elephant was eating a tree just a meter from the eating tent so he had to tell us to wait and keep silent while the elephant had his way around the camp. They told us that the animals always leave the tents alone, – something which was nice to hear since we did later stay in one.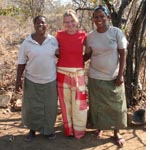 The camp is called Machampane Camp and is run on the philosophy of being completely in harmony with nature, not killing one creature, just observing and experiencing. They do not even wash textiles there since soaps etc could go into the groundwater. Local people from the nearby Massingir village and Velo Massingir work there as cooks and guides, actually taking training in bush guiding from Johan and Thorstein a German specialist bush guide working there. In the morning we went for a hike to see the bush in close up. We enjoyed a nice dialogue about nature and the resposibility of tourist facilitators to educate the guests and the fragile interface they have to manage between the local culture and the sensitive nature with the guests from afar. Many of the issues are just the same that we have been dealing with in our country of volcanoes and glaciers, where we have been involved as designers in developing facilities for foreign guests.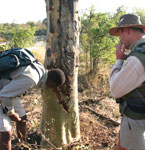 It was really interesting to hear how Johan and his people handle things here in Mozambique and compare notes. Our impression was that the people running this operation have a philosophy of trying not to imitate the Kruger way but to complement it with much more sustainable eco perspective. One just has to hope that this will be successful. Here are some images from our visit.